The official website of the National Olympic Committee of Armenia (armnoc.am) continues the range of interviews with the Armenian famous and promising athletes. This time our guest is Armenia's Greco-Roman wrestling team member, Baku 2015 European Games silver medalist, Mihran Harutyunyan.
-Migran, the World Championship is already over. What conclusions have you drawn from it?
-The conclusions are very critical as there are some mistakes which I have to work out. I have almost a year for correcting them and improving myself.
-The most discussed and criticized topic of the year was Baku European Games where you won a silver medal. What does this medal mean for you?
-As an athlete I can say, that it was an addition to my collection of medals, an opportunity to participate in an international event. It was the result of my trainings and justification of my relatives' expectations. As a person I was proud. I am happy I left for Baku and was given a chance and entrusted. To tell the truth people say that to go there was dangerous, as for me it was a great sport event. I was pleased to compete there having an Armenian emblem on my breast and Armenian surname on my back. I succeeded in grabbing medal and it was much talked about.
-After Baku Games you became popular. Has it made you conceited?
- I think, it hasn't. Anyway people should judge it, it's more visible for them.
-There is little time left to the Rio Olympics. In specialists' opinion Mihran Harutyunyan is able to conquer a gold medal at the Olympics. What do you need for becoming an Olympic champion?
-Your faith.
-Migran, you have visited ''Olympavan''. And what kind of impression have you got from it?
-It's good.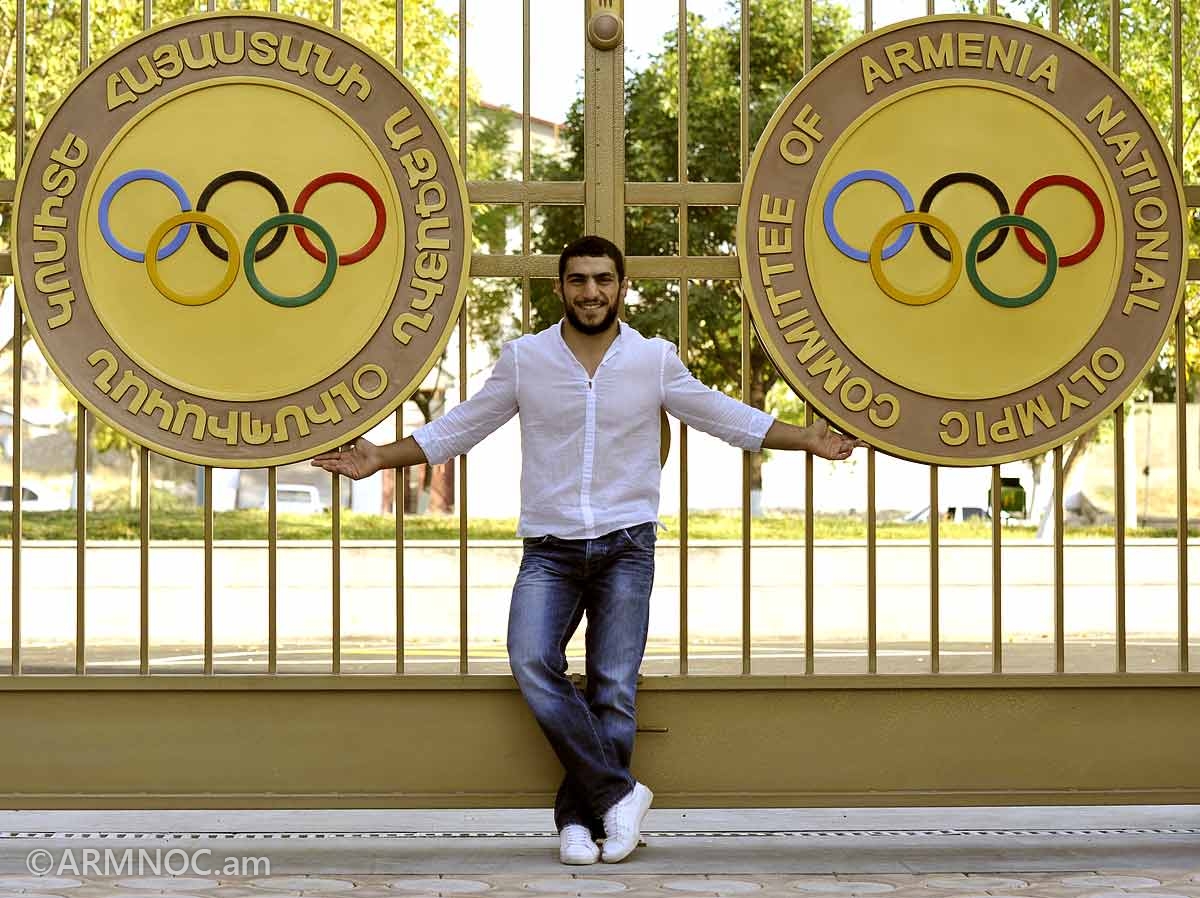 -Will it help you to achieve more successes?
-Yes, it will, as I also dreamed of having such construction in Armenia. We needed it. I think many athletes will train here and much will depend on it. ''Olympavan'' will help us much.
-Migran, you have noted many times that there is no difference for you to train in a gym or in a street. Does training in a gym have a great importance for an athlete?
-Everything has its great importance: coach's treatment, great wish of training and atmosphere. Yes, you're right I have always said that it doesn't matter to me where to train, but it doesn't mean that we should train in bad conditions. These conditions are very good and psychologically it will be more comfortable to train here.
-What competitions are you going to join in till the end of the year?
I haven't planned anything yet. Maybe I'll go to some competition till the end of the year to get more experience and to gladden my fans.
-The next big event is the European Championship, isn't it?
-I suppose, it is.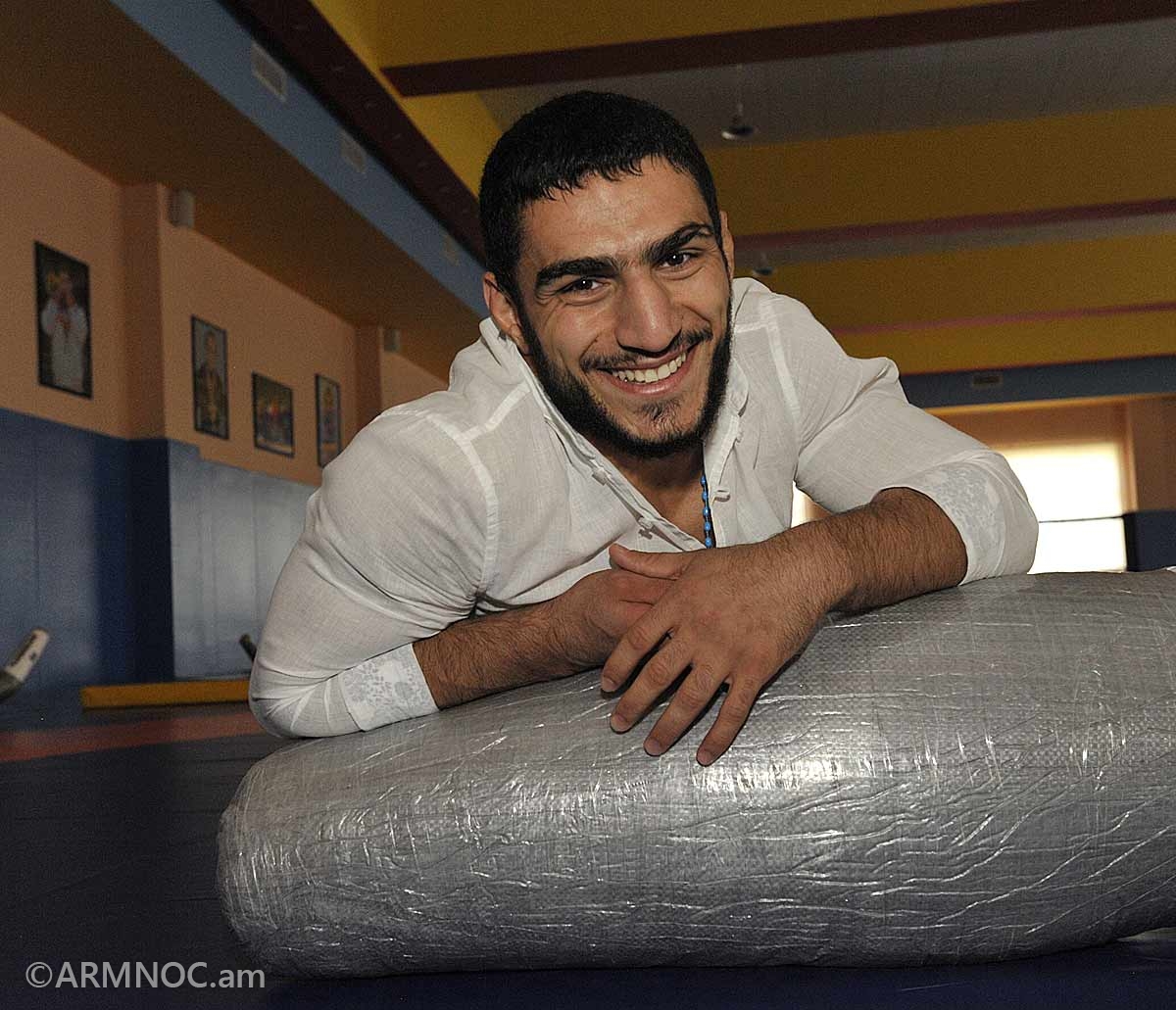 -Let's change our topic. What is happiness for you?
-My happiness is Monica (Mihran's daughter). You can understand many things beneath the happiness. It can be the health, unfortunately, the money and the people who surround you. The happiness is in everything that you can achieve. That's what makes you happy.
-And what is success for you?
-To be strong, that's the success.
-In this case, which are your strong sides?
- The commitment.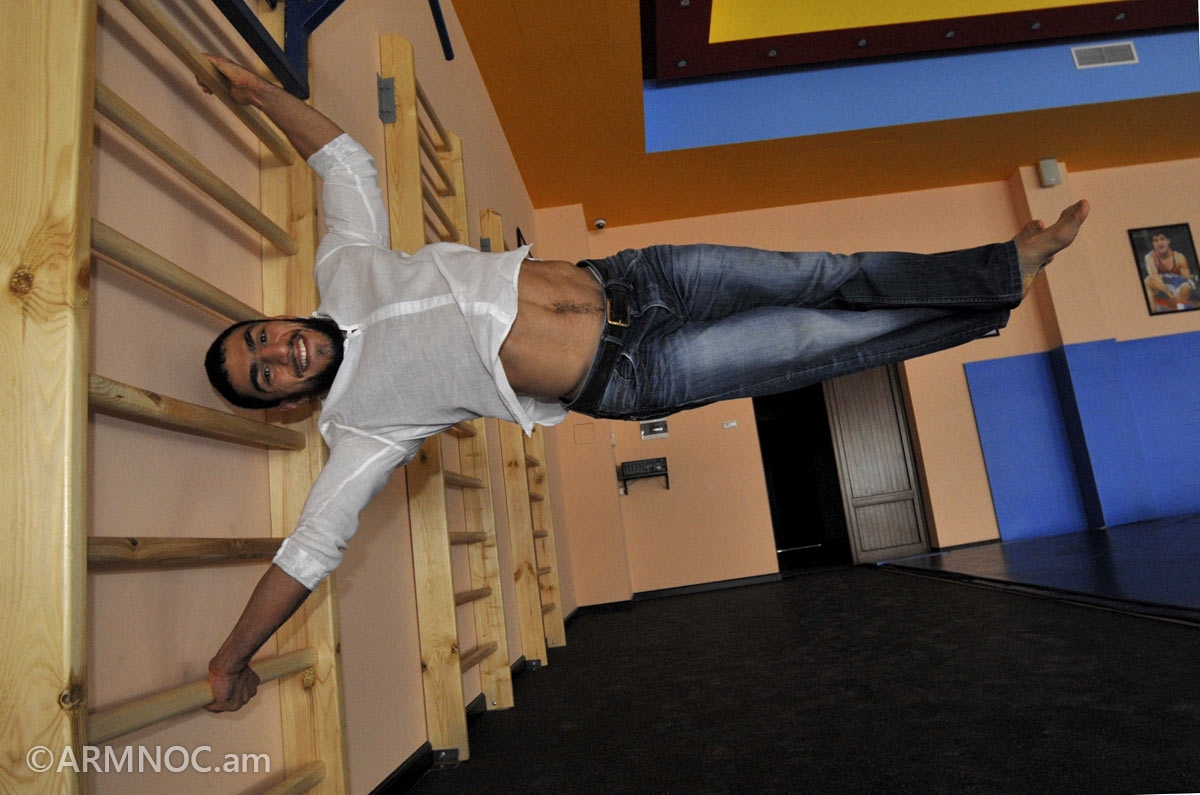 -And the weak ones?
-The kindness.
-What fears do you have?
-''I am fearless''. But I'm anxious for my relatives. I like seeing them happy and I'm afraid of their tears and sadness.
-What features do you appreciate in people?
- One of the most important features of human character is faith in God. It's difficult to be close with people who don't believe in God. Though they say that one of my weakest sides is kindness but I appreciate it in people, only kind people can do good things.
-Whom do you trust the most?
-I trust in God.
-Where would you like to pass your old age?
-I'm a home-loving man, I want to have a large family, many children very much. I hope I'll be able to construct the house of my dreams. I think much of it. It must be special, plain and at the same time very warm not only for my family but also for guests.
-What question would you like to be given? Ask yourself three questions and answer them.
-It's hard. ''What do the journalists think about?''. I will answer that they try to create a conversation through questions with a person who doesn't want to talk. ''How do the women think?''. I think nobody can ever give an answer to this question. I haven't got the third question.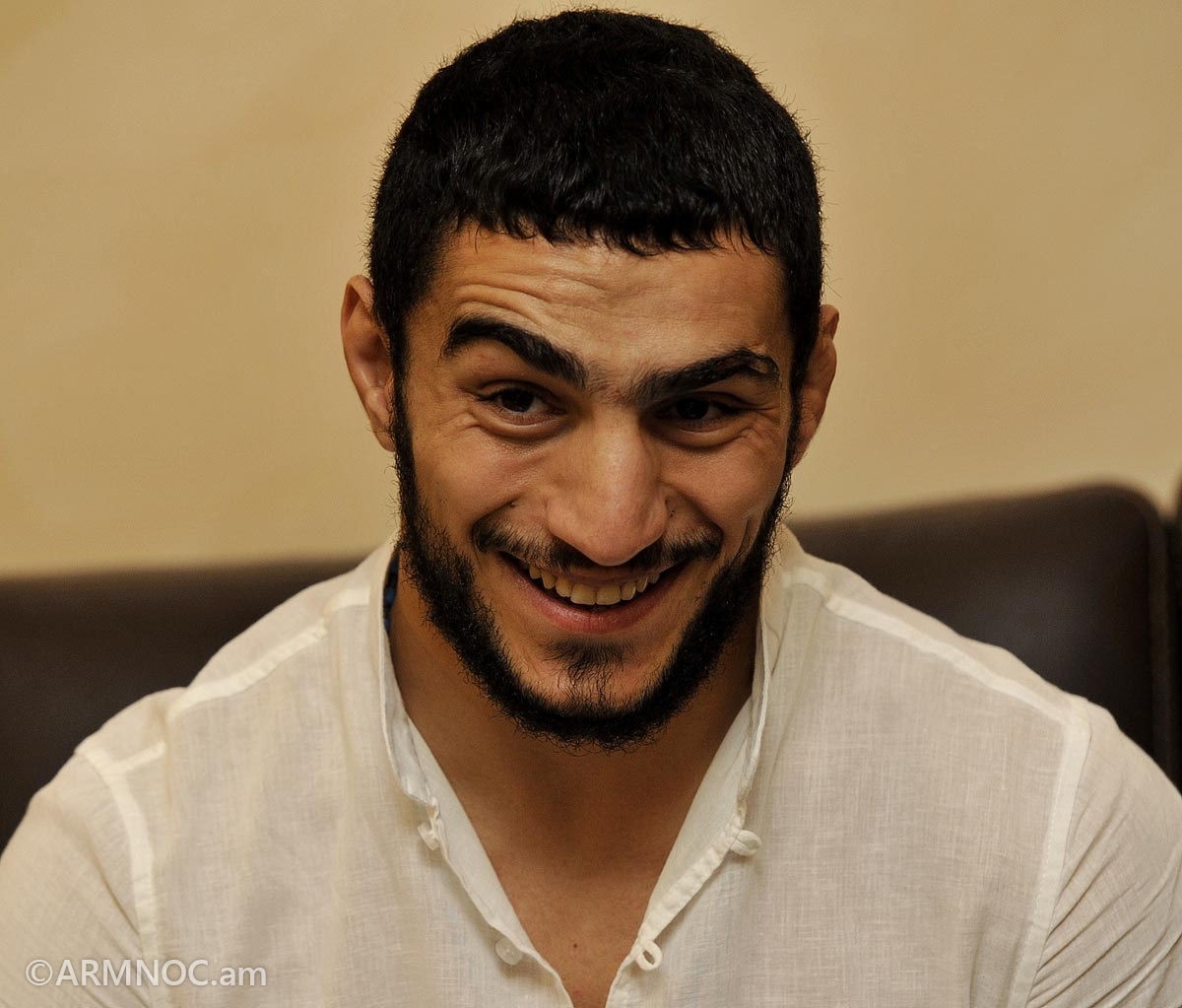 -Where do you imagine yourself ten years later?
-Somewhere connected with sport or sports school. In some organizational activity.
-How would you like to be remembered?
-As a good man and of course, as an Olympic champion. I want to be remembered as an interesting athlete. There are many athletes who have become World and Olympic champions but when you look at their biography you see only remarks. I want to show the beauty of wrestling to the whole world. In good times everybody remember you, but, sadly, you are soon forgotten. I prefer to hear less but good things of me.
-What would you say seeing God?
-I would thank him. If it were possible I would touch his hand and leg. If I managed to see him it would be the highest feeling of my life.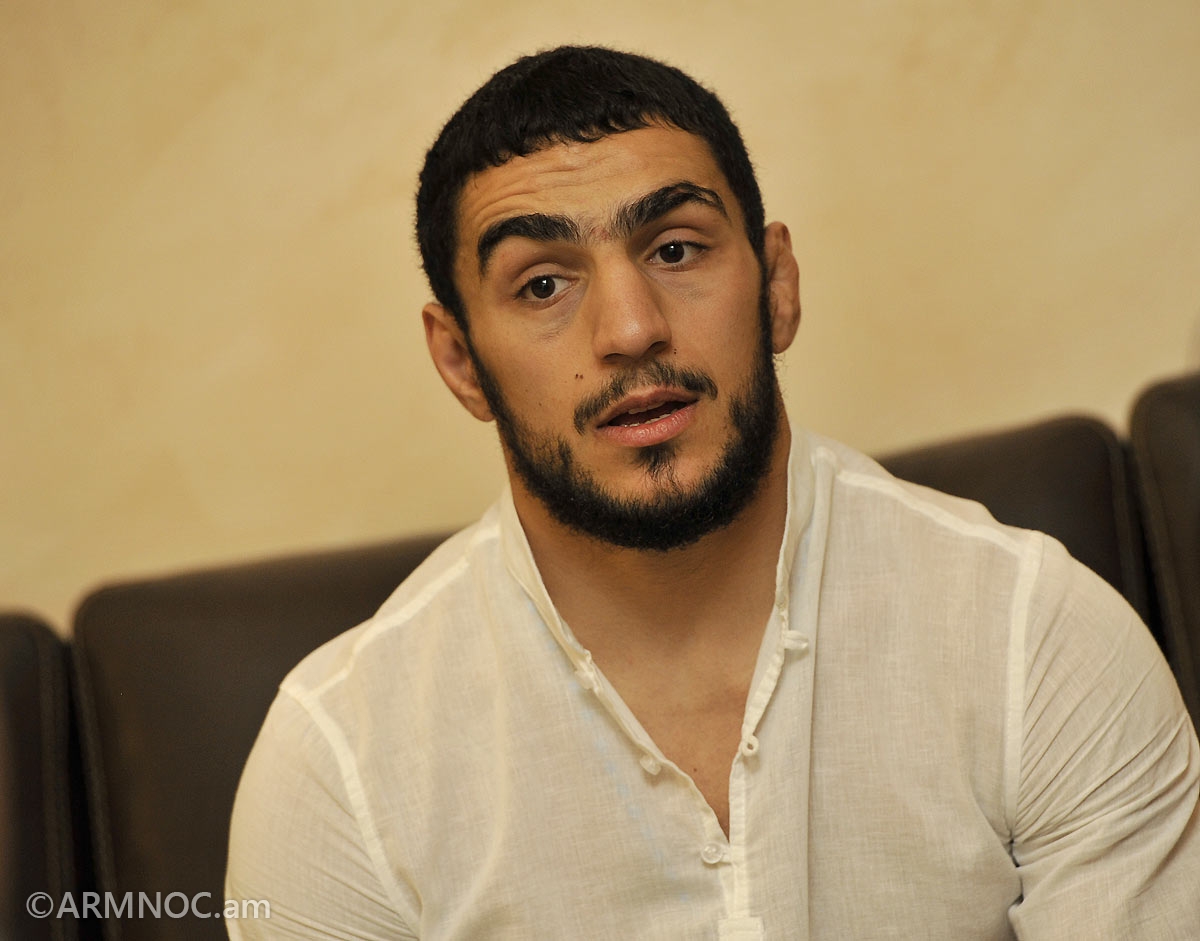 Quick questions
-What's your favorite sport?
-Latin American dances.
-The favorite athlete?
-Suren Nalbandyan.
-The favorite movie?
- ''Mayrik''
-The favorite actor?
-Richard Gere.
-Singer?
-Whitney Houston.
-The favorite song?
-''Hay axchik''.
-The musical instrument?
-Piano.
-Which song is your life slogan?
-''We are the champions'' ( ''Queen''):
-The favorite book?
-The bible.
-The favorite historical figure?
-Alexander the Great.
-The favorite country?
-Russia, Armenia.
-The city?
-Moscow.
-The clothing brand?
-Smoking.
-The favorite meal?
-Armenian dishes.
-What animal do you look like?
-They say I look like a black leon.
-The favorite slogan?
-Veni, Vidi, Vici.
-Your mascot?
-God.
-The phrase that makes you smile?
-Always welcome, wonderful.
-The last photo you've taken by phone?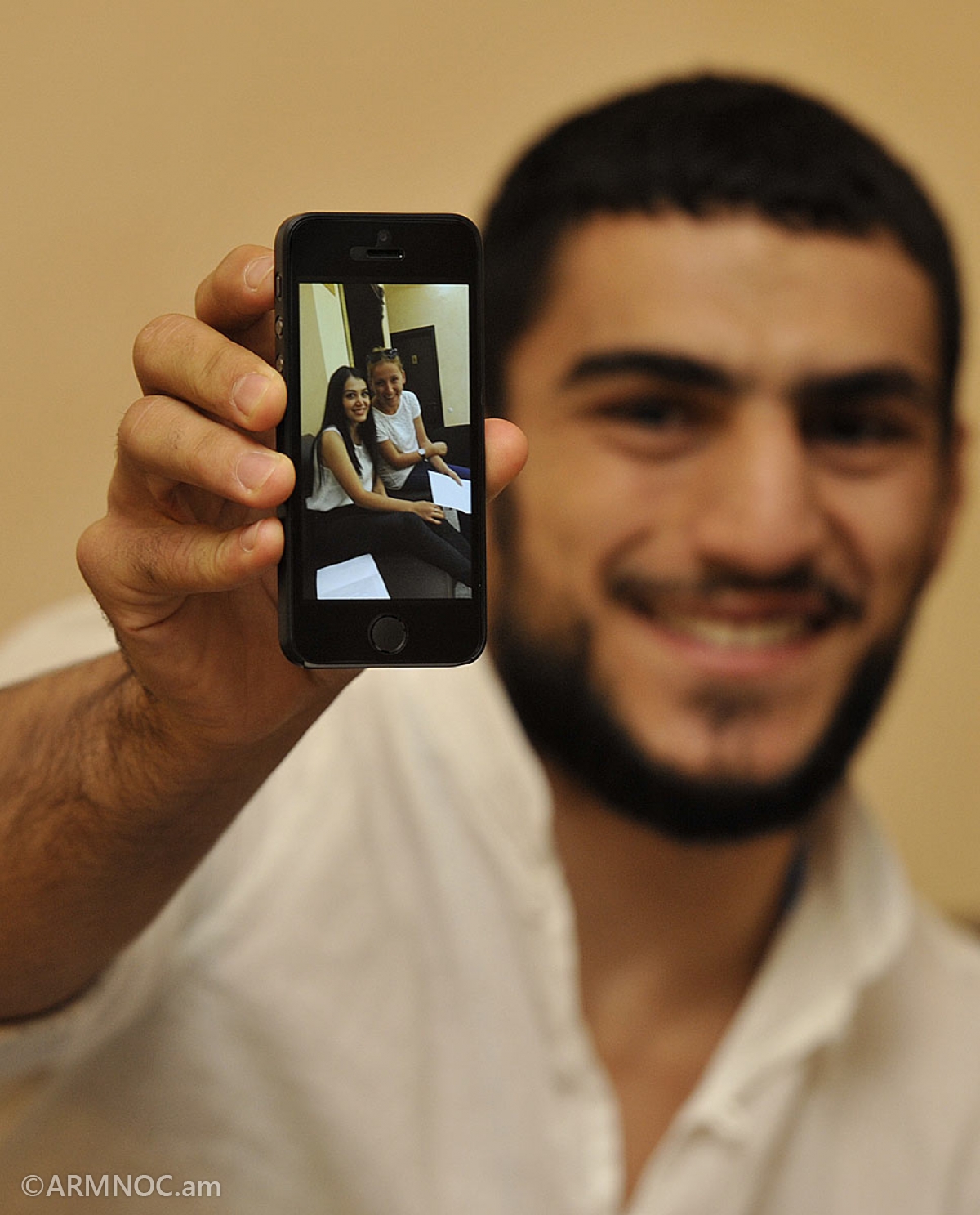 P.S. Mihran Harutyunyan expressed his gratitude to the ANOC president Gagik Tsarukyan for always supporting athletes and constructing ''Olympavan''. He also thanked all the people who love and support him: his coach Ruben Tatulyan, Aram Sargsyan, his physical trainer Aleksandr Hakobyan and the coach responsible for him in Armenia Samvel Gevorgyan.
Photos are here.
ANOC press department