Three years have passed since the 31st Summer Olympic Games Rio 2016. From August 5 to 21 athletes from 206 countries competed for 306 medal sets. By the way, it was the first time South America was hosting the Olympic Games.
The Olympic Games were full of contradictory emotions; on the one hand was Brazilian luxurious nature and warm people, on the other hand poverty and theft which was avoided neither by Olympic participants nor fans.
For the Armenian delegation the Games had also two poles.
The Armenian delegation left for Rio de Janeiro with a record number of athletes, 33, who were going to try to win the desired Olympic medals for Armenia in 8 sports (artistic gymnastics, athletics, wrestling, boxing, weightlifting, shooting and diving).
First hard blow
On the 5th day of the Olympic Games, on August 10, weightlifter Andranik Karapetyan (77 kg), who was then European current champion and a real pretender, entered the competition but… Andranik scored high points in the snatch but during the clean and jerk something went wrong; first he failed to lift 195 kg in the first attempt and in the second attempt it seemed the barbell would be over his head in a moment but it ended with a hand injury, fallen barbell and vain hopes…
First medal
It was the 10th day of the Olympic Games and the Armenia team had no medal. In the evening weightlifters of 110 kg weight class started performing. Armenia was represented there by Simon Martirosyan. No one was trying to make predictions, as they say, not to frighten off good luck.
But the whole Armenian delegation was in anticipation of a victory. Simon being only 19 won an Olympic silver medal and broke the ice. It's hard to describe what the Armenians in the hall were feeling…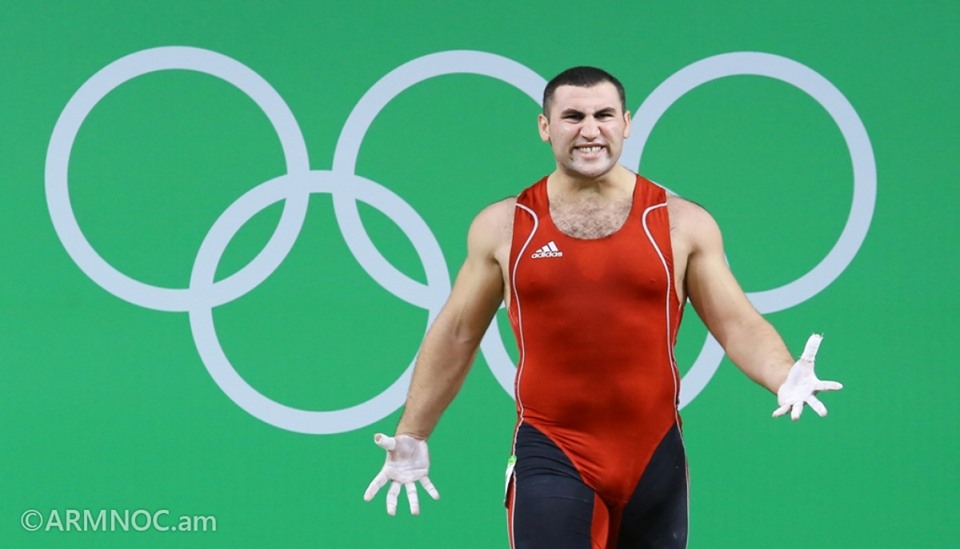 First Olympic champion
On the 11th day two-time world champion, Greco-Roman wrestler Artur Aleksanyan started the struggle in the 98 kg weight class. To say that there were no expectations of Artur to win the Olympic champion title would be a lie (his performance was attended by RA President Serzh Sargsyan and ANOC President Gagik Tsarukyan), but one thing is to expect, another to win that title.
Artur's way was not easy; the first bout with an Italian wrestler was a little tough but the Armenian wrestler had come to Rio with a clear goal. When the referee announced the end of Artur Aleksanyan vs Lugo Cabrera (Cuba) bout we understood that after 20 years Armenia had its second Olympic champion. Then there was the award ceremony, Artur Aleksanyan's climbing on the pedestal with Robert Abajyan's image on his shirt but it was later. First it was worth seeing Artur's "Olympic" cry, Levon Julfalakyan's and Gevorg Aleksanyan's tears and Artur's and his father's hug.
Even in sport there is no perfect justice
Artur Aleksanyan's Olympic champion title and that competition day would be perfect if…
Greco-Roman wrestler Mihran Harutyunyan at 66 kg was not an obvious favorite but he shouldn't have been underestimating either. What he did on the Olympic mat was beautiful, expressive and memorable. We saw a new Mihran, with a more mature wrestling style, more ambitious, with nice tricks and desire to struggle till the end.
In the final his rival was Serb Davor Stefanek, Serbia's only Olympic hope.
Three years have past but till this day we remember everyone's faith in justice: a few seconds more and the Serb wrestler would be warned for passiveness but… We remember that shocking moment when the referee raised the hand of Mihran's rival and we couldn't do anything. We remember the tears and even the ovations of standing Turk fans and whistles to Stefanek. We remember Davor Stefanek's complacent smile showing his tongue and we ask who need a gold medal at that price. That was a day of contradictory emotions; on the one hand you have an Olympic champion after 20 years, on the other hand the athlete is stolen the dream of his whole life. That's why they say silver medal is the "saddest" medal in sports.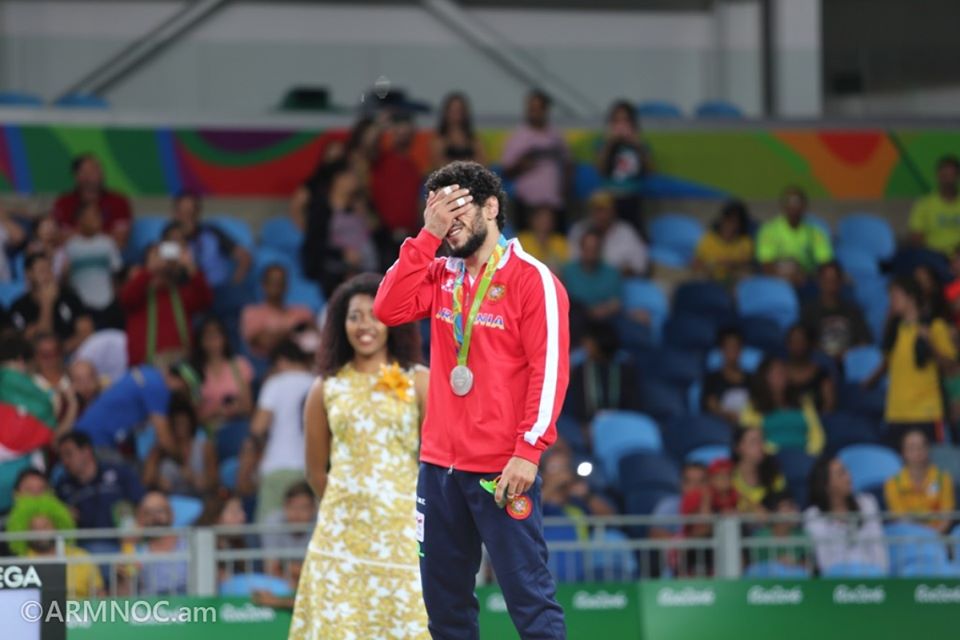 Last medal of Day 11
At the end of the day super heavyweight Gor Minasyan snatching 210 and pushing 241 kg, a total of 451 kg, became a silver medalist of the Olympic Games. It was impossible to overcome Georgian Lasha Talakhadze, who became the winner, then he lifted "unachievable" kilos therefore Gor's result was heroic. The second strongest person on the planet was an Armenian from Gyumri.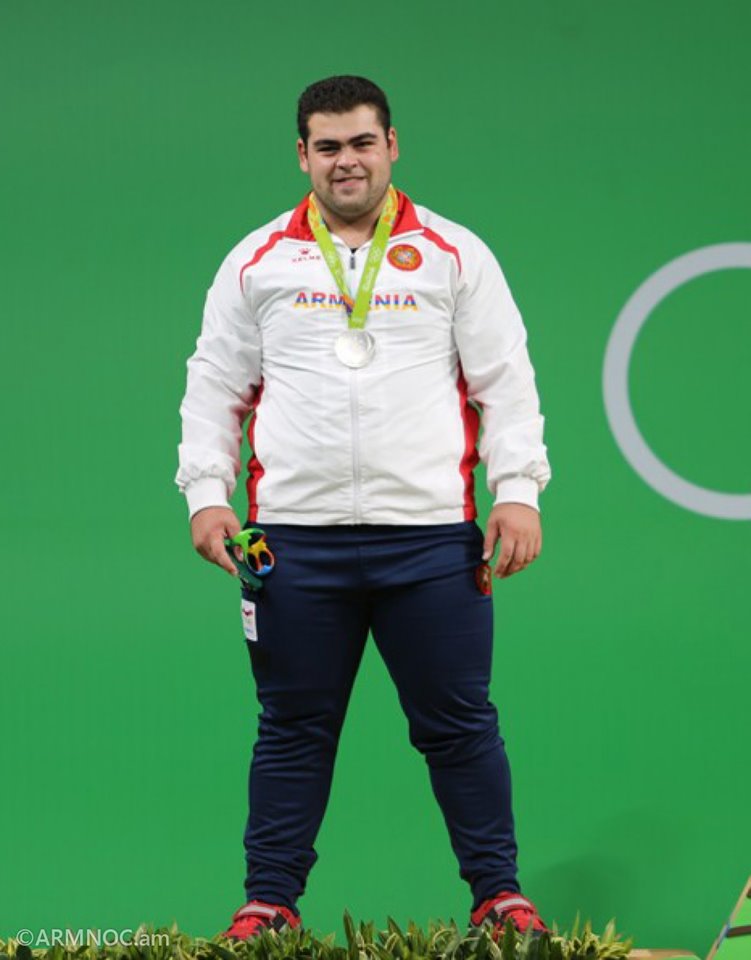 Gor's medal was the last for the Armenia team. The 31st Olympic Games were the most productive after the Olympic Games Barcelona 1992. Of course, there were gaps, athletes who were only half a step behind of Olympic medals but, as they say, statistics will be silent about it.
Ahead there are the 32nd Olympic Games and we are hopeful in Tokyo the Armenian delegation will be able to increase the number of medals and their quality. Everything possible and impossible will be done for it.